The root cause of many quality problems can be classified as training related.
Let me help your company develop effective, affordable training materials, using video, printed material, online and in-person training. Here are some examples.
Video Training
One of the best way to train personnel is to use videos. The production level does not need to be at the "Hollywood" level, but careful videography and a little editing can make an effective training video.
In addition to their value for direct training, these videos also:
provide a reference for quality assurance and engineering.
can be used to analyze problems or ways to increase efficiency in production.
can be used by technical writers to verify repairs and upgrades to products.
Sample
The video below is for an extensive upgrade of a computer tape storage unit. It required a complete tear-down of the main components. To save shipping costs for an entire (heavy) unit, parts kits were sent to field technicians. Since the field reps would normally be removing and replacing entire units and not components, we decided to make a video to give them some expert help from the factory.
Using digital video editing, this video was not expensive to produce or maintain as needed.
The technician is an employee.
By careful positioning and use of a simple pointer, key parts can be shown without extensive post-production add-ons.
Text was added and can easily be changed digitally, if a translation or update is required.
It can be distributed to distant places via YouTube (with privacy settings as needed).
Printed Material
As products and processes become more complex and less forgiving of errors, it is easy to burn up time and money because the correct way of doing things is "tribal knowledge," i.e. there are undocumented "tricks" that must be used to do a job efficiently and/or correctly.
Sample Case
Fiber optic cable is now commonly used in homes and businesses for all kinds of applications--computer, video, telephony, etc. The fiber optic cable is cut to length using a precision tool. The tool blade must be maintained by regular adjustment. The manufacturer of the cutting tool provided a very sketchy instruction sheet (photos & diagrams too small, steps not clear).
Several customers in the field had problems with these cutters. They had wasted time and materials trying to make proper cable cuts. Customer support would attempt to walk them through the correct steps, but it was full of misunderstanding and inefficient. Something needed to be done to correct this.
We reviewed the process, and decided that a new document should be made to clearly explain the adjustment steps. New photos were taken and annotated. The new instructions reduced the customer problems and was a good reference when referring to non-adjustment problems.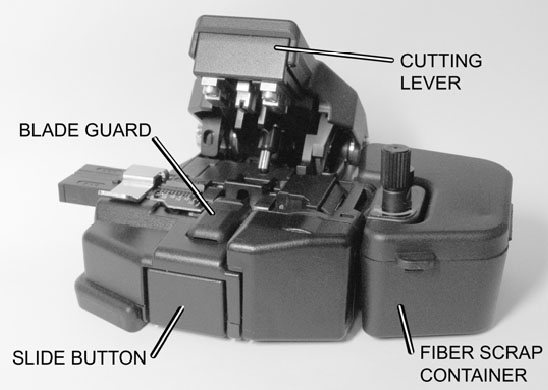 The unit is all black, but careful lighting made parts clearly identifiable.
Click here to see entire manual (3 pp. Acrobat .pdf).
Online and In-person Training
Online training can be arranged using TeamViewer, which allows the trainer and trainee to view the trainee's computer screen. This is excellent for 1-1 or small group training on applications. For more information on the connection setup, go to the Team Viewer website.
Where groups need to interact during training, the traditional "classroom" is still a great way to go. It is important to have structured objectives, methods, and feedback. Let me help you set up and/or conduct an effective training session that matches your needs. Training in these general topics is also available and affordable:

Basic Product Safety Principles for Electronics
Basic Statistical Process Control
ISO 9001 Quality Management Overview
Failure Mode Effects Analysis (FMEA)
Warranty Cost Estimates from Production and Field Failure Reports